Zelensky Appeals For Tanks & Warplanes, Invokes FDR's "Absolute Victory", Before Enthusiastic Congress
Zelensky Appeals For Tanks & Warplanes, Invokes FDR's "Absolute Victory", Before Enthusiastic Congress
Summary: Zelensky spoke for a little over 30 minutes and in English, at times invoking key US historical moments from the Battle of Saratoga to the Battle of the Bulge (and comparing the courage of Ukrainian soldiers), after he was greeted as a 'hero' in a minutes-long standing ovation. He asserted that Ukraine is winning "against all odds". He was throughout frequently interrupted by standing ovations from a partially filled Congress, which was missing a lot of Republicans, in part given a number of lawmakers had already traveled home for the holidays ahead of the unexpected in-person visit, and facing incoming severe weather.
Zelensky peppered the speech with positive and optimistic statements like "Ukraine holds its lines and will never surrender," and "but our defense forces stand" – especially offering the latest example of Bakhmut, in the Donbas. As expected, a major theme was the need for continued US support, for which he thanked the Biden administration, Congress, and the American people.
"The occupiers have an advantage in artillery and much more heavy equipment like tanks and airplanes," he began a section of the address in which he appealed for continued aid. "Your support is crucial… to get to the turning point on the battlefield."
"We have artillery, is it enough? Not really." He explained that Ukraine needs enough ammo and weapons to be able to completely expel Russian forces from Ukrainian territory. He also spoke of the misery that Russian-operated Iranian drones are unleashing on the civilian population in attacking energy infrastructure. "I would like to thank you for the financial packages," he said, and followed with: "Your money is not charity" but an investment in "global security" that Ukraine will "handle in the most responsible way."
Among the more interesting statements was the moment he indirectly pressed for the US to provide tanks and warplanes. While he stressed that Ukraine has never asked American troops to fight on Ukraine's behalf on its soil, he asserted: "I can assure you that Ukrainian soldiers can perfectly operate American tanks and planes themselves."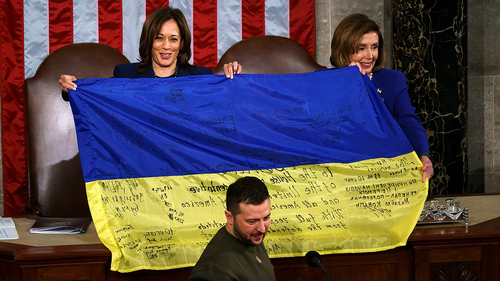 On the potential for a negotiated peace, he called attention of his prior "10-point plan" which he said should be implemented (and which Russia previously firmly rejected), and which he said Biden approved of during the Wednesday meeting at the White House.
Zelensky additionally called on Congress to join Ukraine in bringing every Russian "criminal" to justice. "Let the terrorist state" be held accountable, he said. He emphasized millions of Ukrainians will have no heating or water as they celebrate Christmas. 
"Only victory!" he stressed near the end of the speech, and also quoted from Franklin D. Roosevelt's famous "Day of Infamy" speech. "The American people in their righteous might will win through to absolute victory," Zelensky said, and followed by pledging that Ukraine too will achieve "absolute victory." 
Meanwhile in Moscow…
⚡️#BREAKING Kremlin says no chance of peace with Kyiv after Zelensky Washington trip

— War Monitor (@WarMonitors) December 21, 2022
* * *
Update (1920): Zelensky is expected to make an "appeal to the American people" – as he previewed earlier – at 1940ET. House Speaker Nancy Pelosi in welcoming him about an hour ago to the Capitol building compared the Ukrainian leader to Winston Churchill. Watch live:
Throughout the afternoon, CNN's live coverage has been talking a lot about the below tweet by Donald Trump Jr…
Zelensky is basically an ungrateful international welfare queen. https://t.co/WclnckMoCj

— Donald Trump Jr. (@DonaldJTrumpJr) December 21, 2022
* * *
Summary: President Biden in his written remarks read aloud turned to Zelensky to assure "you haven't stood alone" and that the United States "will stand with you". He said Putin is escalating by targeting Ukrainian energy infrastructure, including "targeting orphanages and schools." A key theme throughout the remarks is the US belief that Putin will "fail" and that Ukraine will have continued "success" on the battlefield with US help.
Biden further pointed out it's been 300 days since Putin launched an "unprovoked, unjustified all-out assault" on Ukraine, part of the "imperial appetites of autocrats". Interestingly, Biden affirmed that even before the invasion the US was helping Ukraine to prepare to defend itself. 
Biden hailed that the Ukrainian military has "won" in the battles for Kyiv, Kherson and Kharkiv. Biden additionally claimed Zelensky is "open" to pursuing a just peace while Putin is not. Further, continued unreserved support was pledged, with no hint of peace talks or a ceasefire…
There had been thoughts, questions that Biden would pressure Zelenskyy to make a (potentially bad) deal with Russia to end the war at any price. It didn't happen, at least not in public. Instead unreserved US support to help Zelenskyy on battlefield.

— Richard Engel (@RichardEngel) December 21, 2022
"I look forward to signing the omnibus bill soon which includes $45 billion for Ukraine," Biden said, while also unveiling 1.8 billion of security assistance that includes both direct transfers as well as contracts for future ammo supplies. In total, it will constitute "$2.2 billion in new support," Biden said. The package will include a patriot missile battery, Biden said, as previewed. While emphasizing that Patriot systems will be a "critical asset" for Ukraine, he admitted that training "may take some time". Biden as expected also stressed the "defensive" nature of the Patriot system.
Biden further in the Q&A said that Putin had "strengthened NATO" with the decision to invade.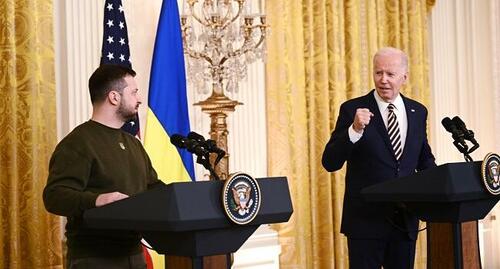 Zelensky for his part, said he's "thankful" for all that the American people have done, and that this is currently a "historic" visit. He said he's especially "grateful" to President Biden for his strong stance in support of Ukraine. Every dollar of this investment is toward "strengthening global security," Zelensky said. He repeatedly referred to "terrorist" Russia and its decision to invade, based on "tyranny". He pledged that ultimately Ukraine will "win" – and that "we will win together". 
Biden pledged during the press conference that US support will remain "for as long as it takes". 
* * *
Update (1425ET): Watch live as President Biden kicks off a joint press conference with Zelensky.
* * *
Update(1340ET): Zelensky has arrived on a large Air Force jet. He's expected to soon meet Biden at the White House, after which there will be a joint presser at 1630ET.
Zelenskiy was greeted by Biden's protocol officer Rufus Gifford on arrival.

📸 from Zelenskiy's Telegram channel pic.twitter.com/PUKhxRxBv1

— annmarie hordern (@annmarie) December 21, 2022
* * *
Update(10:45ET): Zelensky is reportedly arriving to Washington D.C. aboard a US Air Force plane, according to US officials cited in CNN, after taking a high risk train ride into Poland. White House national security communications coordinator John Kirby said of the impending visit with President Biden, "The President really believes that as we approach winter, as we enter … a new phase in this war, of Mr. Putin's aggression, that this is a good time for the two leaders to sit down face to face and talk." But this is how Reuters somewhat cynically previewed the visit: 
Ukrainian President Volodymyr Zelenskiy headed to Washington on Wednesday to meet President Joe Biden, address Congress and seek "weapons, weapons and more weapons" in his first overseas trip since Russia invaded Ukraine 300 days ago.
Surprisingly, the Associated Press additionally highlighted the latest video address by Zelensky, who yesterday while visiting a frontline fighting area in Bakhmut, said the following at a moment Congress is set to to approve $45 billion more in aid for Ukraine in the proposed massive omnibus package:
"We will pass it on from the boys to the Congress, to the president of the United States. We are grateful for their support, but it is not enough. It is a hint — it is not enough," Zelensky said.
Zelensky is apparently prepared to tell Congress that whatever the US has given Ukraine — $45 billion in new aid now under consideration — it is not enough. From @AP: https://t.co/kbyyqF5t5X pic.twitter.com/5BkSu9Dsaj

— Byron York (@ByronYork) December 21, 2022
The US is about to reach $100 billion in total aid committed to Ukraine, and as Glenn Greenwald points out, this far surpasses the total current Russian military budget…
Good morning. The US Congress is about to send another $44 billion to Boeing, Raytheon and the CIA "for the war in Ukraine."

That's a total of $100 billion sent by the US in 10 months.

The entire Russian military budget for the year is $65 billion.https://t.co/wszK7RHFos

— Glenn Greenwald (@ggreenwald) December 21, 2022
And yet Zelensky and the constant refrain of top Ukrainian officials has been essentially that despite the blank check approach of the Biden administration, it is never enough. Apparently even the mainstream media is beginning to recognize this.
Looks like Zelensky flying to Washington on a US Air Force plane. Dramatically reduces the possibility of anything happening to the Ukrainian President on his first trip abroad since the Russian invasion began… https://t.co/7QXkGSWm0h

— Mark MacKinnon (@markmackinnon) December 21, 2022
However, over at CNN Zelensky is being compared to Winston Churchill…
"Zelensky's arrival will draw poignant echoes of British Prime Minister Winston Churchill's arrival in Washington, 81 years ago," writes Stephen Collinson | Analysis https://t.co/2o5FJBbQGM

— CNN International (@cnni) December 21, 2022
* * *
With Ukraine's Zelensky reportedly in the air en route to Washington where he's is to deliver a "very special" in-person speech to US lawmakers, it's being widely reported Wednesday morning that President Biden is expected to announce the US will deliver the Patriot missile defense system, along with another $2 billion in defense aid.
An admin official quoted in Axios said Zelensky's visit to Washington is expected to last just "a few short hours," and marks the first known trip the Ukrainian leader has taken outside the country since the war began. He's expected to hold an "in-depth, strategic discussion" with Biden, and the Congressional address is set for 7:30pm EST.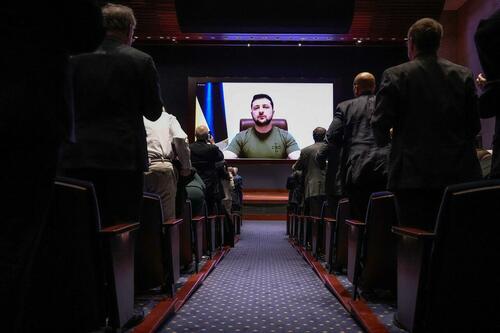 The unnamed official further said the White House wants to put on a "big show of bipartisan support for Zelensky" in hopes of shoring up political "momentum" for continued assistance to Kiev, which is also coming in the form of the enormous omnibus spending package which includes $45 billion in military, economic, and other foreign aid to Ukraine.
White House Press Secretary Karine Jean-Pierre said in a statement that the Ukrainian president's visit will be received with "strong, bipartisan support for Ukraine."
She said "The visit will underscore the United States' steadfast commitment to supporting Ukraine for as long as it takes, including through the provision of economic, humanitarian, and military assistance."
Zelensky in the meantime tweeted confirmation while en route…
On my way to the US to strengthen resilience and defense capabilities of 🇺🇦. In particular, @POTUS and I will discuss cooperation between 🇺🇦 and 🇺🇸. I will also have a speech at the Congress and a number of bilateral meetings.

— Володимир Зеленський (@ZelenskyyUa) December 21, 2022
Meanwhile, some initial reaction coming out of Moscow…
PUTIN: INTERBALLISTIC MISSILES SARMAT WILL BE DEPLOYED FOR COMBAT DUTY IN NEAREST FUTURE
RUSSIAN DEFENCE MINISTER SHOIGU: WE ARE READY FOR TALKS
RUSSIAN DEFENCE MINISTER SHOIGU: JOINT FORCES OF WEST ARE FIGHTING RUSSIA IN UKRAINE
WEST TRIES TO OVERLOOK NUCLEAR BLACKMAIL, INCLUDING OVER ZAPORIZHZHIA NUCLEAR POWER STATION
WEST TRIES TO DRAG ON THE FIGHTING IN UKRAINE
RUSSIAN DEFENCE MINISTER SHOIGU: WE ARE FIGHTING TO SAVE PEOPLE IN UKRAINE FROM GENOCIDE AND TERROR
MILITARY POTENTIAL OF UKRAINE IS BEING DESTROYED
It will be interesting to see whether Zelensky's appearance before Congress is greeted with the same level of enthusiasm from all corners of the GOP.
The GOP wouldn't fund a $5 Billion Border Wall but have happily sent $130 Billion to Ukraine over 9 months.

— Mostly Peaceful Memes (@MostlyPeacefull) December 20, 2022
developing…
Tyler Durden
Wed, 12/21/2022 – 20:40