South Korea Says Talks On Nuclear-Sharing With US Underway
South Korea Says Talks On Nuclear-Sharing With US Underway
Suddenly US involvement on the Korean peninsula is about to potentially ratchet into uncharted territory, as South Korea confirmed on Tuesday it is in talks with Washington to provide a nuclear deterrent presence at a moment Pyongyang is threatening its own nuclear arsenal expansion.
"South Korea confirmed Tuesday that Seoul and Washington are discussing its involvement in U.S. nuclear weapons management in the face of intensifying North Korean nuclear threats, after President Joe Biden denied that the allies were discussing joint nuclear exercises," The Associated Press reports.
Despite President Joe Biden answering "no" to a reporter's question after being asked if joint nuclear exercises are on the horizon with Seoul, South Korean President Yoon Suk Yeol's top adviser for press affairs, Kim Eun-hye, explained that the two countries "are discussing an intel-sharing, a joint planning and subsequent joint execution plans over the management of US nuclear assets in response to North Korea's nuclear (threats)."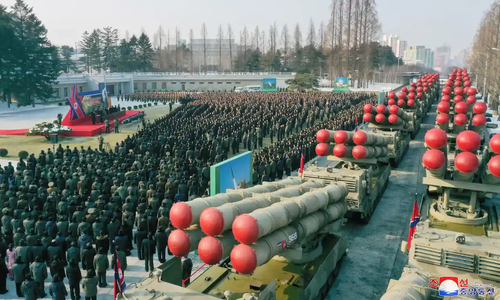 President Yoon himself had affirmed something similar in an interview published Monday in a local newspaper. While South Korea has no nuclear weapons of its own, the idea could possibly be for some kind of nuclear sharing arrangement similar to NATO's inter-alliance sharing agreement. As it stands, the US provides Korea with a "nuclear umbrella" – though this remains too ambiguous for South Korea's leaders, apparently.
Here's how the AP paraphrased President Yoon's Monday statements:
In the Chosun Ilbo interview, Yoon said that while the U.S. nuclear weapons belong to the U.S., planning, intel-sharing and exercises involving them must be jointly conducted with South Korea. He said he finds it difficult to assure his people of a security guarantee with the current levels of U.S. security commitment.
The report indicates that talks on this sensitive topic, given that mere headlines of nuclear-sharing talks could trigger threat escalation out of Pyongyang, could be taking place via unofficial channels.
All of this comes in response to a New Year directive given by the north's Kim Jong-Un, ordering his forces to embark on an 'exponential' expansion of nuclear forces. 
Kim recently said: "They are now keen on isolating and stifling (North Korea), unprecedented in human history," according to the official Korean Central News Agency. "The prevailing situation calls for making redoubled efforts to overwhelmingly beef up the military muscle."
In an interview Monday, South Korea's president said the US+South Korea were in talks on a plan that would effectively amount to nuke-sharing.

Asked just now on the WH lawn about the talks mentioned in the report, Biden indicated they weren't happening.https://t.co/oWNcFaFUGs

— William Gallo (@GalloVOA) January 2, 2023
Kim then at a meeting of top ministers called for "an exponential increase of the country's nuclear arsenal" – and specifically involving the mass production battlefield tactical nuclear weapons with an eye toward South Korea.
Tyler Durden
Tue, 01/03/2023 – 21:20