At NCAA Convention, Athletes Oppose Trans Intrusion In Women's Sports
At NCAA Convention, Athletes Oppose Trans Intrusion In Women's Sports
The NCAA convention in San Antonio had some unwelcome publicity on Thursday, in the form of dozens of protesters speaking out against the collegiate athletics organization's insertion of transgender athletes into women's competition. 
Among the demonstrators against NCAA's policies was former Kentucky Wildcat swimmer Riley Gaines, who had to compete against transgender athlete Lia Thomas, the University of Pennsylvania Quaker who was crowned the NCAA women's champion in the 500-yard freestyle.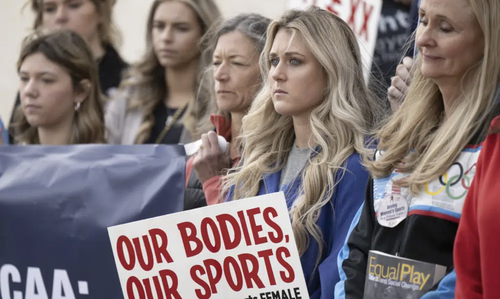 "Today, we intend to personally tell the NCAA to stop discriminating against female athletes by handing them a petition that we have garnered nearly 10,000 signatures on in just a couple of days," said Gaines. 
The NCAA has allowed transgender athletes to cross gender lines since 2010. Full implementation of a 2022 update of that policy was set to happen by August 2023, but, amid growing pushback from women and those with empathize with them, the NCAA Board of Governors his week opted to delay it to the 2023-24 academic year "to address operational considerations." 
"I want to show the NCAA their discrimination against female athletes like me does not go unnoticed," protestor and former Lee University volleyball player Macy Petty told Daily Caller. "I will not stand by as they allow biological men to take over female athletics." Petter had to compete against a trans athlete in USA Volleyball qualifiers.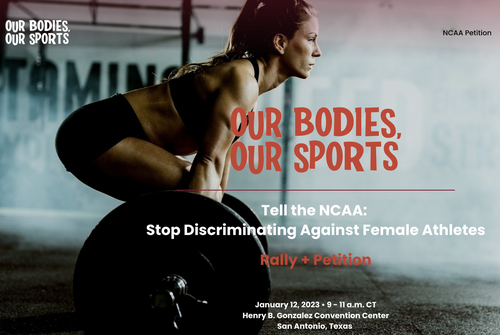 While Thursday's action against the NCAA's transgender policies consisted of speeches and signs, opponents of the status quo are likely to take the NCAA to court with the aim of proving its policies violate Title IX, the legislation that, among other things, requires that female collegiate athletes be afforded the same athletic opportunities as men at the same school. 
This week, attorneys for the Independent Council on Women's Sports (ICONS), a network of current and former collegiate and professional women athletes and their families, published a letter to the NCAA, declaring ICONS was putting the NCAA "on official notice that your practice of allowing male athletes on women's teams constitutes illegal discrimination against women on the basis of sex…it is impossible to provide equal opportunities for both sexes (as required by Title IX) without female-only teams." 
At the protest, alluding to potential legal avenues, Alliance Defending Freedom attorney Christiana Kiefer said:
"I think that could look like a Title IX complaint. And I think it could look like even universities starting to actually push back against the NCAA and saying, 'Hey, we have a legal obligation to protect fair athletic opportunities for female athletes and if we fail to do that, you're kind of binding our hands and not allowing us to fulfill our legal obligations to the female athletes at our schools.'"
The resistance to NCAA's transgender-athlete campaign now includes state governments that have barred transgender athletes from women's sports. Earlier this month, a federal judge upheld West Virginia's ban, saying that "one's sex…dictates physical characteristics that are relevant to athletics." 
Our NCAA protest made the @AP_Sports, @washingtonpost and @espn — we came from across the political spectrum and from around the country, united for #OurBodiesOurSports #TitleIX #SexDiscrimination https://t.co/SdyTkUUWJM https://t.co/Pyc09SEK40 pic.twitter.com/wkUoIzxtoG

— Nancy Hogshead-Makar, JD, Oly (@Hogshead3Au) January 12, 2023
Tyler Durden
Sat, 01/14/2023 – 20:00