Hamburger Prices Might Continue To Rise As US Cattle Herd Shrinks
Consumers grappling with elevated food inflation might be in for another surprise: A shrinking US cattle herd indicates tight livestock supplies for years.  A decline in cattle herds and high production expenses will translate into higher beef prices at the grocery store. We documented this trend last fall (read: "Dwindling US Cattle Herd Implies Supermarket Beef Prices […]
Consumers grappling with elevated food inflation might be in for another surprise: A shrinking US cattle herd indicates tight livestock supplies for years. 
A decline in cattle herds and high production expenses will translate into higher beef prices at the grocery store. We documented this trend last fall (read: "Dwindling US Cattle Herd Implies Supermarket Beef Prices May Rise Even More"). 
Bloomberg explained the reason for the drop: 
Years-long drought in the US Plains has withered pastures and squeezed supplies of feeds including hay and corn. The result: ranchers have liquidated some animals to cut costs, depressing breeding.
The latest figures from the US Department of Agriculture cattle-inventory report on Tuesday showed 89.3 million cattle as of Jan. 1, down 3% from a year ago. The decline wasn't unexpected and was in line with a Bloomberg survey. 
However, a much more significant decline in beef production could be nearing. If not this year, perhaps between 2024-26. 
"With fewer cattle supplies becoming available, beef production is expected to undergo a sizable decline over the next few years," said Courtney Shum, a livestock-market reporter at Urner Barry, an industry publication.
What's alarming is the shrinking herd of beef replacement cows has fallen to 1962 levels.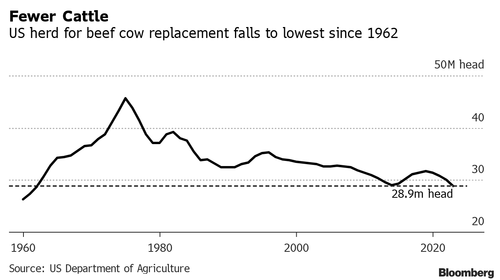 Don Roose, founder of US Commodities, a grain and livestock investment and management firm, warned:
"We're still in the contraction phase.

"It takes a long time to build a herd back up again."
Meaning beef prices at the supermarket might go higher until demand destruction hits.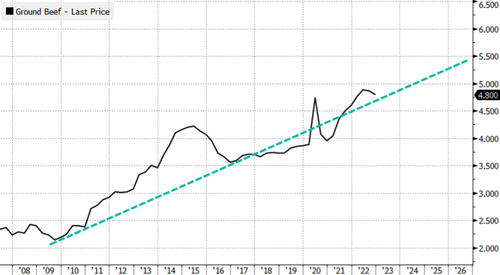 Soon, beef and eggs will be a delicacy for only the rich while everyone else ingests protein-rich insects
This post was originally published at Zero Hedge

Go to Source
Author: swatson